EWG's Dirty Dozen Guide to Food Additives
EWG.org
EWG's Dirty Dozen Guide to Food Additives: The Flavoring Industry and Worker Health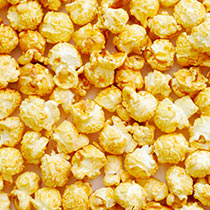 Diacetyl
Concerns about food additives are not limited to consumers; some have been associated with serious workplace diseases. Diacetyl, used as a butter flavoring in microwave popcorn, is associated with a severe and irreversible respiratory condition called bronchiolitis obliterans, which leads to inflammation and permanent scarring of the airways. Diacetyl is also used to flavor dairy products such as yogurt and cheese as well as in "brown flavorings" such as butterscotch and maple and in fruit flavorings such as strawberry and raspberry (OSHA 2010).
Several flavor-related respiratory disease clusters have been identified, beginning with an investigation in 2000 of former workers at a microwave popcorn plant (NIOSH 2004). In one case, the National Institute for Occupational Safety and Health found compromised lung function in 11 of 41 production workers – two-to-three times the expected number. There was little or no response to medical treatment, and workers with severe forms of the disease, some only in their 30s, ended up on waiting lists for lung transplants.
Occupational health concerns associated with flavoring chemicals go beyond diacetyl. The federal Centers for Disease Control and Prevention and the Occupational Safety and Health Administration have identified other flavoring chemicals that may pose a risk to workers, including 2,3-pentanedione and acetaldehyde. NIOSH emphasizes that safety evaluations of flavoring chemicals are largely based on consumer exposure, and there are no occupational exposure guidelines for most. This means that workers could face much higher risks that are poorly understood.
What you should do
Be aware of foods that contain the non-specific ingredient "flavor." It's hard to know what kinds of compounds this term may be hiding. Use
EWG's Food Scores
to find foods without questionable flavorings.