Mining Threats to Grand Canyon and Crested Butte Halted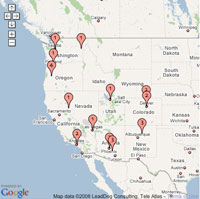 WASHINGTON, April 9 – As pressure mounts to overhaul the antiquated 1872 Mining Law, two high-profile mining operations have come to a halt - one along the south rim of the Grand Canyon, and the other right above the Colorado ski town of Crested Butte.
In an ominous move that threatened the integrity of the nation's most iconic natural treasure, last December the U.S. Forest Service approved drilling for uranium at 39 sites near the south rim of the Grand Canyon. But last week, a federal judge ordered a temporary halt to Vane Mineral Group's operations near the Canyon, citing inadequate environmental reviews by the Forest Service before signing off on the company's proposal.
Also last week, Canadian-based Kobex Resources, Inc. and U.S. Energy Group dissolved their plans to begin mining operations on Mt. Emmons just west of Crested Butte. Kobex' chairman cited the comprehensive mining reform legislation that passed the House of Representatives late last year and a bill moving through the Colorado State Legislature as two of the main factors in his company's decision to terminate the planned operation.
"It's a victory for the Grand Canyon and Crested Butte, but only temporary," said Dusty Horwitt, EWG public lands analyst. "As long as the 1872 Mining law stays on the books, both of these areas will remain at risk. Congress must update the law so that these places and others will be protected from mining impacts permanently."
In recent months, a steady stream of news coverage has alerted Americans to the threat of mining near national parks and Western communities, including almost three dozen editorials calling for reform of the 1872 Mining Law that currently leaves federal officials virtually powerless to prevent new mines once a claim is filed. Western newspapers have been among the loudest voices demanding reform.
Last month, EWG released an analysis showing a huge surge in claims encroaching on cities, towns and communities throughout the West. This boom near populated areas is part of a modern day land rush resulting from soaring prices for uranium, gold and other precious metals. Active mining claims on public lands in the West doubled in the past five years, from 207,540 in 2003 to 414,228 in January 2008.
###
EWG is a nonprofit research organization based in Washington, DC that uses the power of information to protect human health and the environment.