EWG News and Analysis
The latest from EWG's staff of experts >>
EWG News Roundup (6/8): 28,000 Farmers Collected Subsidies for 32 Years Straight, EPA May Scuttle Ban on Carcinogenic Chemical and More
This week, EWG uncovered that nearly 28,000 farmers have received farm subsidies or disaster relief payments for 32 uninterrupted years – totaling $19.2 billion. This news comes as Congress tries to impose new work requirements on parents with young children and older Americans who receive food assistance.
"The next farm bill should ensure that farmers are getting help during tough times, not an annual annuity," said EWG Senior Vice President Scott Faber. "Any farm bill that claims to promote self-sufficiency should end repeat subsidy payments, regardless of need, and make sure payments flow to farmers who live and work on farms, not to billionaires, city slickers and distant relations."
On the topic of the farm bill, we took a look at a recent analysis by Harvard Law School that showed how hundreds of consumer and farming protection laws in all 50 states would be preempted by an amendment to the House farm bill. Our map shows which laws could be preempted in each state.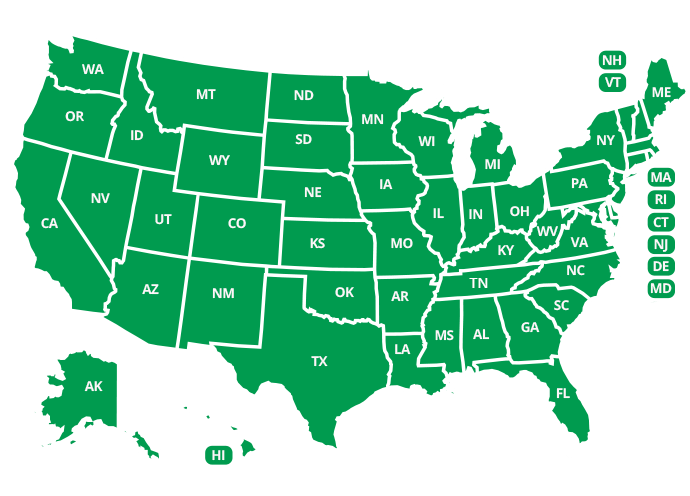 EWG has long researched the health risks of chemical mixtures, so this week we reviewed a study published in peer-reviewed journal Toxicological Sciences, which found chemicals such as BPA, PFOA and methylparaben in the bodies of Americans. These chemicals are common in consumer products and drinking water.
In troubling news out of the Environmental Protection Agency, last week the agency signaled that, due to industry pressure, it may plan to delay or scrap proposed bans on some uses of the drinking water contaminant trichloroethylene, or TCE. TCE is a chemical that the EPA has deemed as "carcinogenic to humans by all routes of exposure." Drinking TCE-contaminated water has also been linked to birth defects, leukemia, and liver and kidney damage.
More than 50 public advocacy groups, including EWG, wrote to Department of Human Health Services Secretary Alex Azar to request the agency release a draft study by the Agency for Toxic Substances and Disease Registry that suggested safe exposure levels for PFAS chemicals are up to 10 times lower than the EPA's non-enforceable guidelines. This comes after emails were unearthed that showed EPA officials attempted to block the study, fearing a "public relations nightmare."
As the summer fast approaches, outbreaks of harmful algae are starting to sprout up in lakes and other bodies of water across the nation. Following a recent report on the issue, EWG raised the alarm on an outbreak in Salem, Ore., that led to a do-not-drink warning for the city's water supply. Stay tuned as we continue chronicling these harmful algal blooms throughout the summer and beyond.
Since taking office, President Trump has indicated that his administration would go above and beyond to prop up the dying coal and nuclear industries. Last week, the president told Department of Energy head Rick Perry that his agency should head off the closure of coal and nuclear plants that are hemorrhaging money. Recent analysis has shown that these sorts of actions would be catastrophic for human health and cost utility customers billions of dollars.
For coverage on these developments and more, here's some news you can use going into the weekend.
The Farm Bill and Farm Subsidy Report
CNN: House farm bill seeks to restrict food stamp benefits while allowing subsidies for billionaires
Scott Faber, the Environmental Working Group's senior vice president for government affairs, said that stance is hypocritical. "Certain legislators like Rep. Hartzler are being paid twice by the taxpayers, once to do their job and once for farm subsidies," Faber said. "For those same members to laud efforts to kick the poorest Americans off SNAP is the height of hypocrisy."
Politico – Morning Agriculture: Thousands Of Farmers Getting Subsidies Yearly
Nearly 28,000 farmers have received USDA farm subsidies or disaster relief payments every year for 32 years — adding up to more than $19 billion in assistance, according to a report from the Environmental Working Group being released today. The average payment was $687,204, according to the report. One farm in Sondheimer, La., raked in $11.3 million in subsidies between 1985 and 2016. Nine other farms across the country received $8 million each.
Los Angeles Times: Farm bill targets food stamps — but not the well-off farmers who have been on the dole for decades
But the new data compiled by the advocacy organization Environmental Working Group are setting off fresh charges that food stamps are not the only form of welfare bankrolled under the bill. "We are struggling to understand how some of these operations manage to get paid every single year," said Scott Faber, vice president of government affairs at the group. "It is remarkable that 28,000 people have managed to get a check every year for 32 years."
Wall Street Journal: Market Talk – WSJ Wealth Adviser Briefing: OppenheimerFunds New Ad, Social Security, Housing Bubble
About 28,000 US farmers have received a form of government support for 32 consecutive years, according to an analysis by the Environmental Working Group. The group, which has criticized the nation's farm-safety net system, says subsidy and disaster relief payments to the farmers totaled more than $19B between 1985 and 2016, with the average payment for the 32-year period totaling $687K.
Sioux Falls Argus Leader: These South Dakota farmers have been getting checks from the federal government for decades
But Scott Faber, the Environmental Working Group's vice president of government affairs, said its inexplicable that some farmers have received a payment each year when there have been both good and bad years in the farm economy. "It's just hard to understand how someone would have gotten a payment every year for the last 32 years," Faber said.
Texas Observer: Texas Congressmen Plow Billions into Agribusiness While Proposing to Cut Food Stamps
The Republican congressmen charged with writing the nation's Farm Bill like to jabber about how people on food stamps need to get back to work. But those same lawmakers have helped secure billions of dollars in taxpayer-funded subsidies for big commodity farmers in the last three decades, a report released Wednesday by the Environmental Working Group found.
WNAX: EWG Analysis Shows Over $19 Billion In Federal Payments Given To Farmers
A new analysis by the Environmental Working Group shows that for over 30 straight years, over $19 billion in taxpayer funded federal farm subsidies have been paid out to farmers. EWG Senior Vice President Scott Faber says that covered the years from 1985 to 2016.
Letter to HHS Secretary Azar
The Parkersburg News and Sentinel: Groups push feds to release study about PFAS in drinking water
A draft report from the registry said the risks from exposure to a subset of PFAS chemicals "pose a significantly greater threat to human health than previously estimated," the letter released Thursday through the Environmental Working Group said. Safe exposure levels to PFAS chemicals are 10 times lower than the EPA's non-enforceable guidelines, the group said.
Common Dreams: Public Interest Groups Call for Release of Suppressed U.S. Study on PFAS Chemicals
The mission of the Environmental Working Group (EWG) is to use the power of public information to protect public health and the environment. Reprint of news release.
Harmful Algal Blooms
Jefferson Public Radio: IJPR: Toxic Algae Blooms Reach "Epidemic"
The Environmental Working Group calls the spread of harmful algal blooms an epidemic. Oregon has had a program to track blooms and inform the public for years now. Craig Cox from EWG visits.
The Environmental Working Group, a nonprofit scientific research organization, has found news reports of almost 300 toxic blooms of the same blue-green algae that is causing problems in Salem's water, and has been since 2010. The problem, they say, is getting worse. Bill Walker, editor-in-chief and vice president of Environmental Working Group joins us.
Statesman Journal: Oregon Health Authority to require testing for cyanotoxins in drinking water
Toxic algae blooms are spreading throughout the U.S., according to a recent report from Washington, D.C.-based nonprofit Environmental Working Group. One of the first known incidences of toxic algae blooms contaminating drinking water was Lake Erie in 2014, affecting residents of Toledo. Craig Cox, the Environmental Working Group's senior vice president for agriculture and natural resources, said in a statement, "Toledo was a wake-up call for many people."
Asbestos
Chemical Watch: Snur would ban new use of asbestos in the US
A Snur would prevent companies from deciding to use asbestos once again, which they could now do without notice, Melanie Benesh, legislative attorney at the Environmental Working Group, told Chemical Watch. "In that sense, it's better than the status quo," she said. "But if these uses have been abandoned and we know asbestos is dangerous and not needed for these applications, why not ban it?"
Asbestos.com: EPA Releases New Rules for TSCA Asbestos Review
A 2017 study by the Asbestos Disease Awareness Organization and the Environmental Working Group (EWG) shows the U.S. imported an estimated 705 metric tons of raw chrysotile asbestos in 2016.
Chemical Body Burden
EcoWatch: Consumer Product Safety Testing Overlooks Cancer Risk From Exposure to Multiple Chemicals
Exposure to mixtures of toxic chemicals often starts in the womb, and the developing fetus gets its first dose of chemical exposure before birth. BPA, parabens and PFOA are also found in the placenta and the umbilical cord blood, as demonstrated by research from EWG and other research organizations.
The Reading Eagle: Living Well – Man-made toxins take their toll on women's health
A startling study from the Environmental Working Group in 2005 documented an average of 200 toxins in the cord blood of newborn infants. It's no coincidence that childhood rates of birth defects, developmental disorders, cancer, asthma and food allergies are increasing.
California Green Cleaning Bill
Chemical Watch: California legislature advances school 'green cleaning' bill
The bill, which will now be taken up in the Senate, is sponsored by the Environmental Working Group.
Cellphone Radiation
Virginia Public Radio: WVTF: "5G" New Wireless Platform Coming to a Transmitter Near You
But if the telecom industry association isn't sounding any alarms about the potential dangers of cell phones, the Environmental Working Group, known as EWG is. "EWG first got involved in the cell phone issue years ago where we posted on our website the SAR, the specific absorption rates for your cell phone and it busted our servers." Bill Allayaud is legislative liaison for EWG in California.
TCE
Chemical Watch: US 'problem formulations' raise fears for TCE, NMP rules
However, Melanie Benesh, legislative attorney for NGO the Environmental Working Group, told Chemical Watch the problem formulations suggest that the pending bans for uses of TCE and NMP will not be similarly revived. "It seems pretty clear those rules are not going to be finalised," she said.
Toxic Substances Control Act
Chemical Watch: EPA 'narrowing' scope of first ten TSCA risk evaluations
The approach reflected in the problem formulations makes the TSCA risk evaluations "about as narrow as they could be," Melanie Benesh, legislative attorney for the Environmental Working Group (EWG), told Chemical Watch.
Chemical Watch: EPA issues TSCA 'problem formulation' documents
The Environmental Working Group added: "These woefully incomplete problem formulations signal the EPA's intent to discount human health risks to justify weak regulations of these chemicals."
Cleaning Products
Mommypotamus: How To Make Citrus-Infused Cleaning Vinegar
Aunt Fannie's Cleaning Vinegar – This cleaner earns an A from the Environmental Working Group. It's made from food-based ingredients and comes in four scents: Sweet Mandarin, Lavender, Fresh Lime Mint, and Eucalyptus
Cosmetics
Allure: The Best Natural and Organic Makeup Brands That Makeup Artists Actually Use
"Non-toxic means free from undesirable ingredients listed by the Environmental Working Group. This is better than claiming natural or organic as they are products that perform without compromising safety. People want natural because they assume natural ingredients are safe, which is not necessarily the case. They also may not be as effective as synthetic materials."
VICE: Tonic: Relaxers Aren't the Only Hair Products With Shady Chemicals Marketed to Black Women
So if you do use these hair products, how much and how often do you need to use them before they pose a risk to your health? "Unfortunately, there's no really good answer," says Nneka Leiba, director of the Environmental Working Group's healthy living science team. Tracing a health problem to specific chemicals in consumer products is tricky.
A Plus: These Items Got Me Through My First Year Of Parenthood
The other thing to think about, safety-wise, are all of the products you use. The Environmental Working Group is a great resource to see if the products you are using are safe. After doing some research, I settled on using California Baby products for bath time.
Skin Deep® Cosmetics Database
Glitter Guide: Top 13 Best BB Creams for Combination Skin Reviewed in 2018
Fans of Supergoop appreciate the fact that this product has a low hazard rating in the Environmental Working Group database. Plus, it's safe for sensitive skin.
Metro: Does your toothpaste have this common ingredient that could wreck your gut health?
If you want to track down whether your other personal care products have triclosan, you can turn to the Environmental Working Group, which has a guide to consumer products that have the ingredient. Warning: You will find everything from hand sanitizer and antibacterial hand soaps to face cleanser on this list.
Guide to Bug Repellents
People's Pharmacy: How Can You Keep Mosquitoes Away?
Both Consumer Reports and the Environmental Working Group (EWG) suggest that oil of lemon eucalyptus and picaridin can each serve as an alternative to DEET. They are quite effective repellents. Brand names include Repel Lemon Eucalyptus, Sawyer Picaridin and Natrapel Picaridin.
Nutrition
What's Up Mag: Feeling Off-Kilter? Check Your Vitamins
According to the Environmental Working Group (EWG), the top five vitamins that Americans don't get enough of are vitamins D, E, and A, as well as the minerals magnesium and calcium. Let's take a closer look at what problems a deficiency (or, in less severe cases, an inadequacy) can cause.
Consumer Guide to Seafood
POPSUGAR: Keep These 8 Diet-Busting Foods Off Your Plate If You Want to Lose Weight
Here's the real issue though: "Some farm-raised varieties are artificially dyed pink and others have been found to have traces of antibiotics used to treat the fish in their crowded conditions. According to the Environmental Working Group, imported farmed salmon is also one of the top five foods with the worst environmental footprint," she says. Be sure to check labels, and stay safe.
Before It's News: What is the safest source of fish?
As if all that wasn't enough, studies are discovering more and more concentrations of other toxins in fish that eat mostly feed. The Environmental Working Group states that rates of PCB's (polychlorinated bipheyls), a known carcinogen, may be up to 16 times higher in farm-raised salmon than wild-caught salmon.
Shopper's Guide to Pesticides in Produce™
POPSUGAR: 25 Healthy Frozen Foods You Need in Your Freezer Right Now
Strawberries topped the Environmental Working Group's "Dirty Dozen" list, meaning the fruit has the highest amount of residual pesticides. It's best to buy them organic. Add a serving of these into your smoothie for all the immune-boosting vitamin C you need in a day.
Reader's Digest: 20 Things You Must Do Before the First Day of Summer
Make two copies each of the Environmental Working Group's 2018 "Clean Fifteen" and "Dirty Dozen" lists, which rank this summer's cleanest and dirtiest produce, from a pesticides' perspective. Research has linked exposure to these chemicals with potential fertility and neurological problems. Tape one copy to your fridge and keep one in your wallet—that way you'll always have a handy reminder of which summer superfoods have the least amount of pesticide residue (avocados and sweet corn) and which hang on to the most (strawberries).
The Mercury News: Which of your fruits and veggies are the dirtiest?
And the winner of the fruit with the most pesticide residues goes to…strawberries. For the third straight year, strawberries topped the Environmental Working Group's Dirty Dozen list of fruits and vegetables laden with the most pesticides.
BoldSky Limitless Living: World Environment Day: 10 Best And Worst Foods For The Environment
The methane gas emissions and the amount of feed required for lambs are almost similar to that of beef, according to the Environmental Working Group. This makes it the worst animal protein for the environment.
Cheapism: 10 Foods Worth Splurging On
Not all produce is created equal. Health expert and trainer Joey Daoud of New Territory Fitness points consumers toward the Environmental Working Group's Dirty Dozen list of fruits and vegetables found to contain the most pesticide residue. These foods — including strawberries, spinach, and apples — "are definitely worth the extra money to buy organic," he says. Reprinted by MSN.
MSN: 4 Surprising Things Martha Stewart Does to Stay Healthy and Look Younger
Eating lots of veggies is a clear win for good health and diet, but eating only organic vegetables ensures that you and your family eat veg that's free of chemicals and unwanted pesticides. This list from the Environmental Working Group can help you decide when eating organic is a must.
MSN: 10 Foods It's Okay to Skimp On
The Environmental Working Group's guide to pesticides in produces features a "Clean Fifteen" List that includes avocados, onions, papayas and more. "You can save some money here by not buying organic," says health expert and trainer Joey Daoud of New Territory Fitness.
EWG's Guide to Sunscreens
NBC8: KULR (Billings, Mont.): Sunscreen brands to avoid, according to health experts
According to experts at the Environmental Working Group, some sunscreens contain chemicals that could be putting your child in danger. Reprinted by ABC Montana.
WTOP: Burns, bites and blisters: Avoiding and treating summer health hazards
When it comes to selecting the best sunscreen for your family, the Environmental Working Group's 2018 Guide to Sunscreens can help. The annual resource rates more than 200 sunscreens based on the UVA and UVB protection they provide, plus the ingredients they contain. "Not all sunscreens are made equally … People think that if they pick up a sunscreen product, it meets the same criteria as the one beside it, and that's not the case," said Nneka Leiba, director of Environmental Working Group's Healthy Living Science program.
Cheat Sheet: Don't Make These 5 Sunscreen Mistakes and Destroy Your Skin
According to the Environmental Working Group, about 12 percent of beach and sport sunscreens contain this Vitamin A. Always check the label before buying to make sure your sunblock is Vitamin A free.
Seattle Post Intelligencer: Since state is in top 10 states for skin cancer, use sunscreen and coverup
However, the Environmental Working Group – which released its 12th annual Guide to Sunscreens that reviews the safety and effectiveness of more than 1,000 sunscreens, moisturizers, and lip balms that advertise sun protection – is critical of sunscreens.
CBN News: Summer Safety: Sunscreens Are Misleading, Here's How to Choose the Right One
In its new report, Environmental Working Group claims that 73% of the 880 sunscreens it tested don't work as well as advertised or contain "worrisome" ingredients such as oxybenzone, which they claim is a hormone disruptor and retinyl palmitate, which according to government studies on animals caused they developed skin tumors. EWG recommends choosing products with zinc oxide and titanium oxide instead.
Central Penn Parent: Keeping kids safe and happy in the summer sun
Instead, according to the nonprofit Environmental Working Group (EWG), there's been a dramatic five-fold increase in the number of sunscreens advertising SPF 70+ or SPF 100+ since then. Regardless of the SPF, it's important to apply one ounce (two tablespoons) 30 minutes before going outside and reapply it every two hours or immediately after swimming or sweating.
CNY News: Should You Throw Out Your Sunscreen And Start Over?
After reading a report from Environmental Working Group on sunscreen, I ended up throwing away ALL of my sunscreen! Some of what I had was too old and others had cancer-causing chemicals in them. Yikes!
Cool Mom Picks: The top 10 most affordable safe sunscreens for kids, from EWG's 2018 safer sunscreens guide
Every year, I browse the Environmental Working Group's report on the best safe sunscreens for kids and babies. This list measures popular brands against the EWG's standards, including everything from worrisome ingredients to false marketing claims. Reprinted by MomBloggers.
Lifestyle: The sun-safe beauty buys saving our coral reefs
Hawaii's landmark decision followed on from learnings revealed in a report on oxybenzone—a chemical found in most standard sun creams. The report suggested that oxybenzone was harming coral reefs, and while some scientists argue the evidence isn't yet conclusive, the EWG (Environmental Working Group) has labelled the chemical as a 'high hazard'.
MindBodyGreen: Meaningful Actions To Take For World Ocean Day That Don't Feel Like Huge Lifts
Every year, the Environmental Working Group publishes a comprehensive report on the safest sunscreens on the market for human and environmental health. Check out their survey of this summer's sun protection and read up on the one environmental toxin you should never have in your sunscreen (Hawaii has gone so far as to ban sunscreens that have it!).
Nonstick Chemicals in Drinking Water
WHQR (North Carolina): GenX – Cape Fear Regional Reports & Resources
Resources: Environmental Working Group – National Tap Water Database